Mindblowing Apartment Bathroom Ideas In Bloomington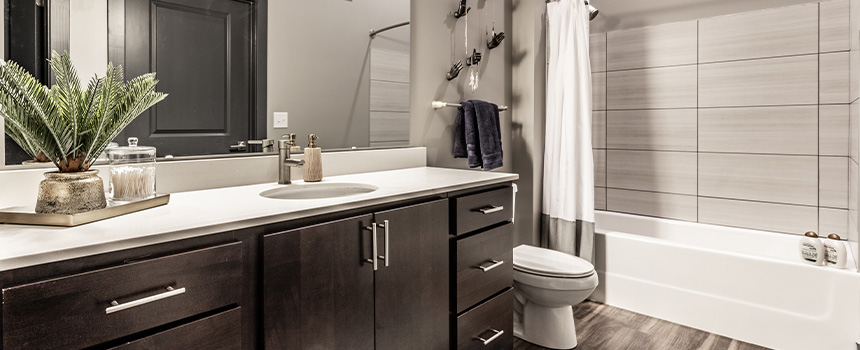 The internet has lots of bathroom storage and decor concepts, but some may not work with your apartment bathroom. Several bathroom renovations may require more surface area than you have or be too lasting for a space you don't own. This is why we've amassed several clever apartment bathroom ideas for Bloomington Tenants who want to customize their bathroom and elevate their apartment living experience.
Vertical Storage Can Transform Your Bathroom Space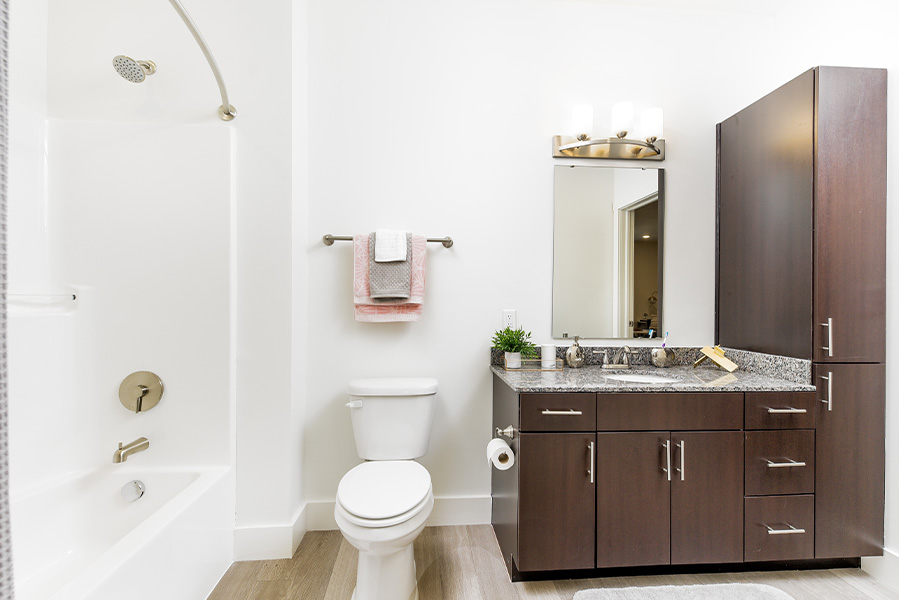 Does any bathroom have sufficient storage? Most
apartment floor plans
don't come with sizable bathrooms with copious amounts of built-in storage or space to add more in. In this case, use vertical storage to make the space neat and tidy.
You can purchase space-saving solutions like hanging shelving, over-the-door hanging organizers, towel ladders, and shower shelves. Craft your own vertical bathroom storage by placing floating shelves on walls. Your walls and ceiling give a lot of options for storage with the choice to place baskets, stick up hooks or string up a hanging basket..
Once you get your vertical storage how you like, keep everything organized with attractive and functional containers. For instance, woven fiber baskets, fun painted jars, and metal cylinders work as stylish decor and practical toiletry storage. Freely place identical containers or blend textures and materials in a common color for a seamless look. No matter what you choose, your bathroom will look better with all the items hidden out of sight.
Add Color To Your Bathroom With Embelishments
You probably won't have an option of bathroom paint scheme, but that doesn't mean you won't be able to add in some life in other methods. Use the clean wall color to splash in any color option you can think of via your shower curtain and decor.. Start with a vivid shower curtain and branch out from there. Layer in coordinating towels, soap dispenser, toothbrush cup, bath mat, etc. Your bathroom will look more unified, and you are able to bring everything with you to get the same design should you ever move.
Bring Your Own Upgraded Amenities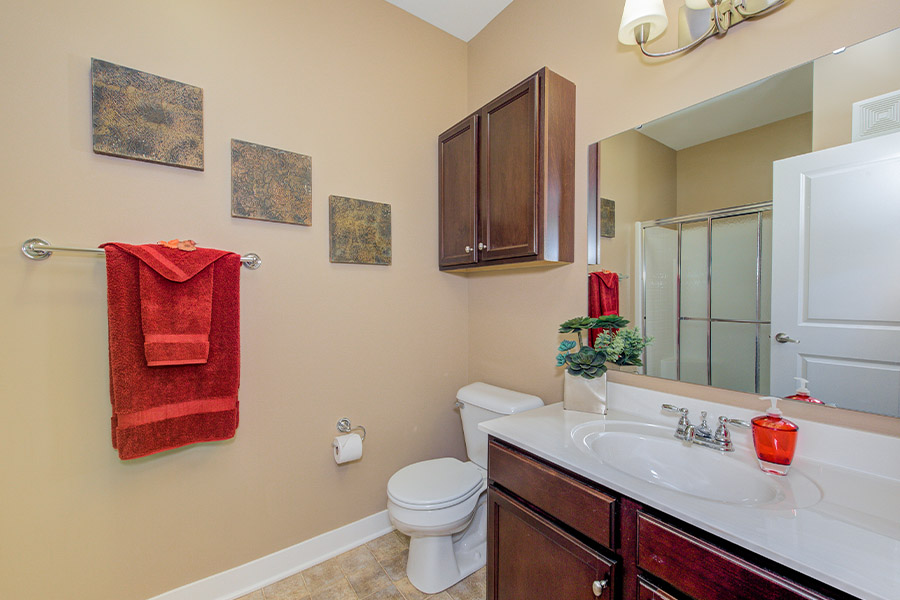 Your apartment neighborhood could have
amazing amenities
, but your bathroom could need a face lift. So you can make it by yourself by getting your own luxuries. Purchase fluffy, soft towels and floor mats. Splurge on a towel warmer. Find a bamboo bath tray, a scented candle candle, and a bath pillow and your Bloomington apartment bathroom will feel more like a spa!
Add Some Personality With Removable Wallpaper
Can't stand plain walls? Try removable wallpaper. This item is apartment-friendly because it comes right off when you are moving. Use it to have an accent wall or put trim around your bathroom.
If wallpaper is too much, you can also utilize unique removable wall decals. Pick a couple in your color palette and a favorite motif or quote to spice up your bathroom wall.
Replace The Shower Head With One You Enjoy
Everybody relishes a comforting hot shower. Your showers will feel even more extravagant with a quality shower head. If your apartment shower comes with only a run-of-the-mill, static shower head, replace it with a premium model. It's an easy job that won't harm the existing fixture, and you'll love how a new shower head both looks and makes you feel.
Employ Your Favorite Bloomington Apartment Bathroom Ideas In Your Apartment At City Flats on Tenth
Before you can makeover your apartment bathroom, you need an apartment! City Flats on Tenth has exactly what you're looking for. Our roomy apartment layouts and luxury amenities will ensure you love your bathroom and each room of your living space. Call 812-561-1974 or schedule a tour to learn more about moving into our beautiful community.